The W-8BEN-E Form is required for Australian SMSFs that derive investment income (e.g. dividends or interest) from US investments.
While the form might look a bit cumbersome this guide should have to completed the form in a few minutes.
While there are many sections to the form, you are only required to fill in Part I, Part III, Part XII and Part XXX.
Some providers have different ways of completing the form. Care has been taken to make this guide accurate, however, should your provider reject the form, please contact them directly to request guidance on how they with to have the form filled out for SMSFs.
Part I – Identification of Beneficial Owner 
Item 1. Write full name of the SMSF exactly as it appears on the Deed.
Item 2. Write "Australia".
Item 3. Leave blank.
Item 4. Tick "Complex trust".
Item 5. Tick "Nonreporting IGA FFI".
Item 6. Provide the SMSF's principal place of business, or registered office address. Do not provide a PO Box or care-of address.
Item 7. Leave blank.
Item 8. Leave blank.
Item 9a. Leave blank.
Item 9b. Enter the SMSF's ABN.
Item 10. Leave blank.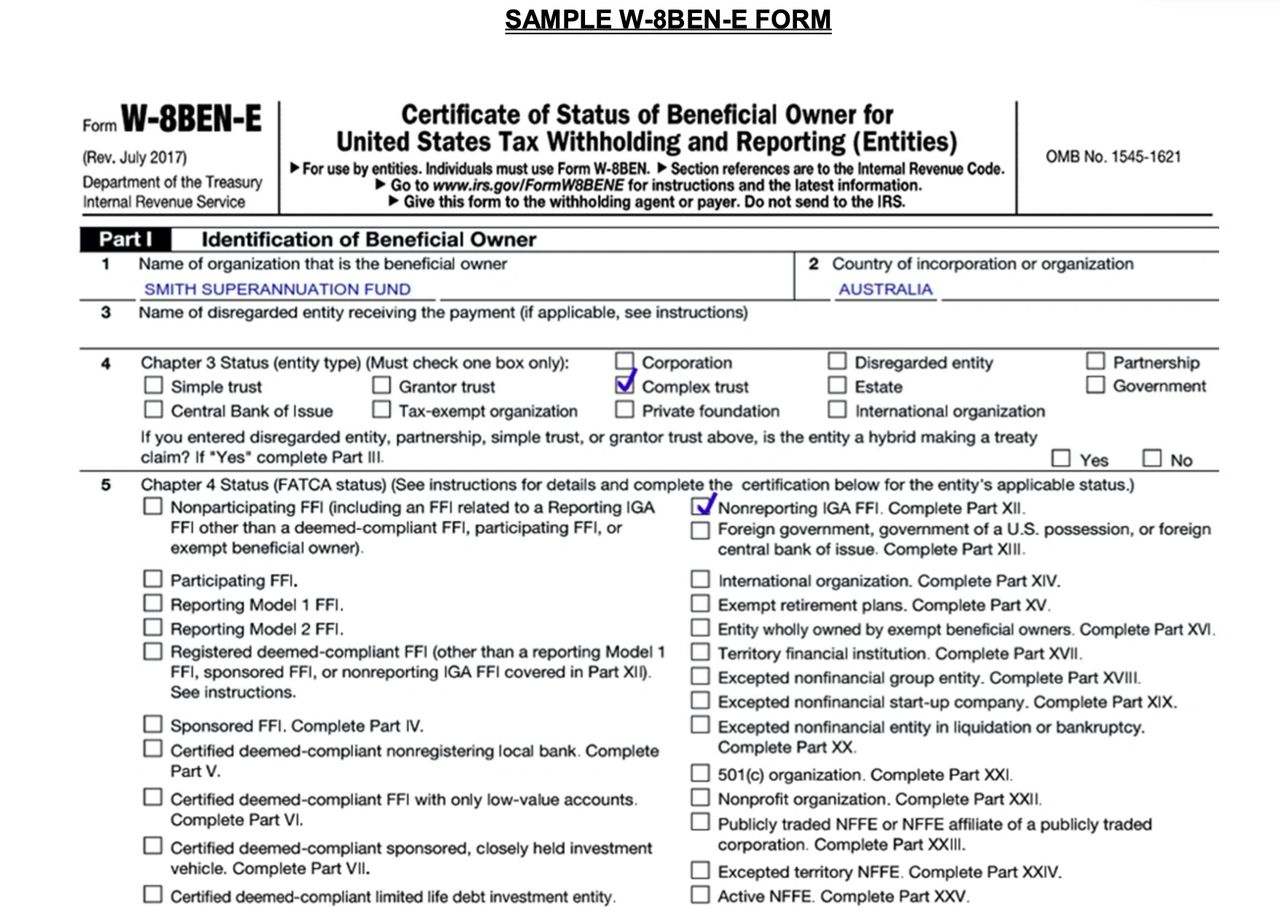 Part III – Claim of Tax Treaty Benefits 
Item 14a. Tick box and write "Australia" in the space provided. ( The beneficial owner is a resident of AUSTRALIA within the meaning of the income tax treaty between the Unites States and that country.)
Item 14b. Tick 2 boxes. 1) Tick the first box "The beneficial owner derives the item (or items) of income for…". 2) Tick the 3rd box "Tax exempt pension trust or pension fund".
Item 14c. Leave blank.
Item 15. Leave blank.
Part XII – Nonreporting IGA FFI 
Item 26. Tick the first box. Write "Australia", tick box for Model 1 IGA and write "Australian retirement fund" in the space after it says "is treated as a …"
Leave blank for the rest.

Part XXX: Certification 
Only one individual trustee or one director of a corporate trustee should print their name and sign and write the date of signing the form (in US date format MM/DD/YYYY).
By signing this form, the authorised person agrees to submit a new form within 30 days following a change in circumstances such that any/all of the information on this form becomes incorrect.
Tick the box certifying that this person has the capacity to sign for the SMSF.
Once the form is completed send a copy to your provider (CommSec, Interactive Brokers, SAXO etc).